Slitting & Rewind Facility
In addition to Accrued's film stocks, we have the facilities to slit master reels to bespoke sizes. Our standard lead time for slitting is 3 to 5 working days, but emergency short lead time enquiries are our speciality.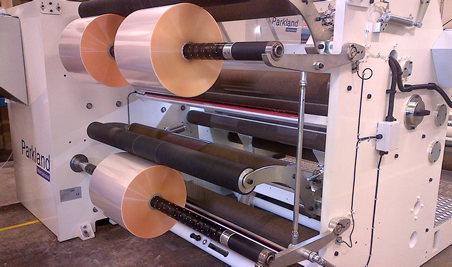 Specialised Technology
We are flexible enough to work with our customers to ensure we hit the lead time they require. Accrued Plastic Ltd have 5 slitting and rewind machines within the production facility. We can slit bespoke sizes from film stocks, or we can slit and convert customer supplied film, plain or printed. All slit reels are supplied fully labelled for traceability back to master reel and wrapped and palletised as per customer requirements and specifications.
Accrued Plastic strives to offer a high quality product at a reasonable price, with a friendly and professional customer service. Our newly commissioned slitting machine has allowed us to reduce our lead times and to accommodate urgent requirements from customers.
Max. unwind & rewind width: 2,500mm (on selected machines)
Min. unwind & rewind width: 50mm (on selected machines)
Max. unwind & rewind diameter: 800mm (on selected machines)
Unwind & Rewind Core: 76mm and 152mm
Blades Used: Razor blades / Rotary blades
Winding capabilities: Lock, Differential and Air shaft
Colour line sensor for printed conversion work
Capacity: 30 tonnes per week
Reel salvage
Lead time: 3-5 working days (dependent upon order specifications)
Accrued Plastic can also offer a full slitting service for printed or unprinted film reels to end-user sizes, or rewinding printed product to the correct PIFA direction, we have the infrastructure and expertise to meet your requirements. Please contact your Accrued representative to discuss any aspects of slitting or conversion. No matter how big or small the enquiry we have the facility to meet your targets.